Raja Ravi Varma was among the very famous Indian painters from the 19th Century. His work is considered the most "hung" and "auctioned" in India. A lot has been said and written about him. He is one of the major milestones in Modern Indian Art Arena. We cannot speak about Indian Art without the mention of this Icon.
I am a huge fan of his depiction of women and his overall passion for Art. He was the first artist to have created the notion of an Indian beauty that wasn't specific to any one part of India. The depiction of figure and face that is the traditional image of the Indian woman we see today is a Ravi Varma trademark. Being a well traveled and a well read artist, he was able to fuse Indian and Western techniques to come up with his unique kitsch style.
Image source:www.cyberkerala.com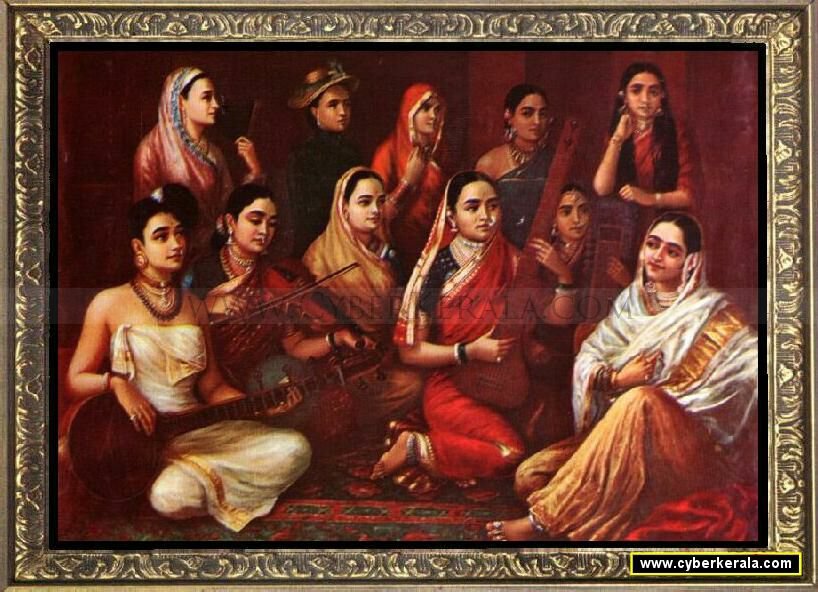 He was recognized as a child prodigy and was endowed the title "Raja" by his uncle, The King of Travancore - Raja Ayilyam Thirunal. Raja Ayilyam Thirunal saw ravi varma's charcoal drawings on palace walls and recognized the talent in his nephew. His formal art lessons started when he was 6, he was later trained to use water colours by Rama Swamy Naidu, Travancore's Palace-artist. Three years later, British Painter Theodor Jenson took him under his wings to train him in oil painting. Varma won the first prize in Madras Art Exhibition in 1873 and then another prize in Vienna in 1876. This brought him an international recognition.
His paintings and techniques were said to be highly influenced by western art and artists of his times. Despite all the criticism his work received (when he was alive), it is amazing to see that his versions and interpretations of the Hindu mythology are popular even in the 21st century. Every consecutive representation of Hinduism in print, movies and the theater are all inspired by Ravi Varma's paintings.
Image Source: cyberkerala.com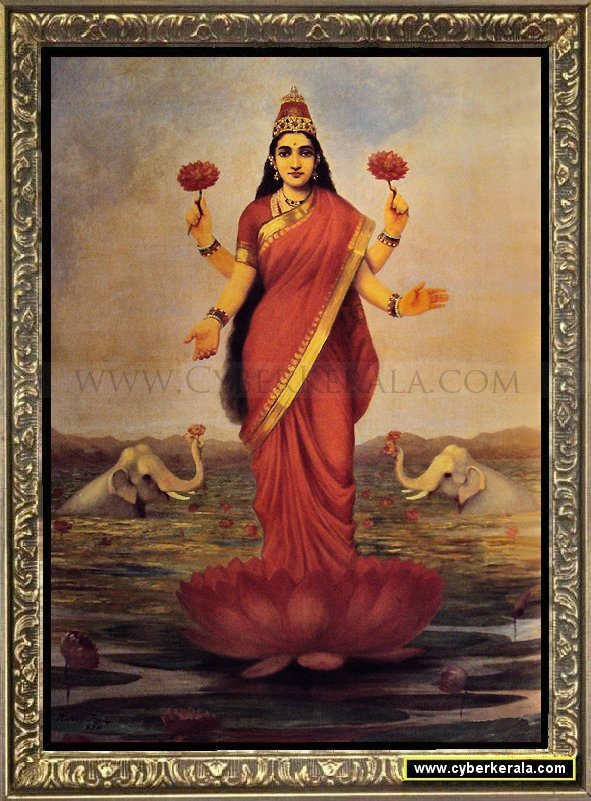 It was during the late nineteenth century that the modern Indian Hindu iconography was finding its place beyond sculptures and murals in Hindu temples. It is interesting to note that traditional hindu pooja rooms (at home) had small brass/silver or gold idols at the altar. Unlike all the picture frames which are a common thing as of today.
Raja Ravi Varma is said to have pioneered the picture printing press by setting up India's first ever
Lithographic
press in Mumbai. He was foremost among artists to print hundreds of copies of his famous paintings. He brought religious icons and murals to the masses, there by bringing in the concept of Industrialized art to India. However, it is rather sad that only a portion of his work has been printed till date.
He was also known to have been criticized for commercializing production of pictures of gods and other mythological subjects. While researching for critical interpretations of his work, I came across this movie trailer - Rang Rasiya. This movie is said to be a biographical sketch of this famous artist. It is a nice depiction of this Artist Prince....As some one aptly said -He is a Prince among Artists and the Artist among princes.
Although, I had started out writing this article about him, I found this video (in hindi) and had to share it here. As they say pictures speak louder than words, I felt that this video would be able to showcase the artist better than what I could write.
Source: youtube
It is interesting to see that he used his art as the most influential medium of visual communication in a socially and culturally fragmented Indian society. It must have been a strong force in motivating people during political canvassing in British India. Apart from the political and social influence, his paintings had an impact other art and dance forms of Kerala. For example, in 1960's, Mohini aattam guru Satyabhama made some changes to the attire and hairstyle of mohini aattam dancers. This was to give this dance form a distinction from other South Indian dance forms - Bharathanatyam or Kuchipudi.
Here is a wonderful collection of his
Oleographs
: